WEDDING MAGICIAN ABERDEEN
Carl Howse has been performing magic at weddings in Aberdeen and Scotland for more than 15 years and is the perfect choice to enhance your special day. Suitable for all ages form Grannies to young toddlers. Carl's amazing interactive magic is a blend of skill and humour and is guaranteed to entertain your guests and keep them talking about how much fun they had for a long time after.
Your wedding will probably be the biggest party you will ever throw and your guests are there to enjoy it with you and take away some special memories. Hiring Carl as your wedding magician will help ensure this happens and is fantastic value for money.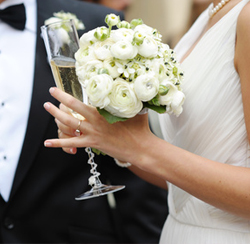 The three most popular times to use a wedding magician are:
Photographs / Reception
While the photos are being taken Carl will mix and mingle with your guests making them gasp and laugh with his amazing close-up magic, leaving them feel you went that extra step to make this an even more magical day. If there are children at your wedding don't worry, because Carl is an excellent kids entertainer and balloon modeler and can even do a Magic Show while they sit round having fun, giggling and laughing. (This is also very enjoyable for the grownups)
Wedding Breakfast
In-between courses during the meal, Carl can move between tables performing a short show for your guests, providing a talking point that always gets them chatting, "How does he do that". This is great ice breaker for tables where people have just met each other and can provide some great photo opportunities for your photographer to capture their reactions.
Evening Reception
At the start of the evening's entertainment and before the music is in full swing, there can be a bit of a gap as new guests arrive and people are standing at the bar. During this period Carl can mix and mingle with people and will soon have them chatting and laughing while he amuses and amazes them with his easy going personality and mind blowing close-up magic.
Every wedding is slightly different so if you would like a friendly chat about how Carl can add some magic to your, day please don't hesitate to
Call 01330 825429
Newlyweds to be, book Carl months and even years in advance for their special day, so please enquire early to avoid disappointment.
} Dear Carl, on behalf of myself, Andy and all our guests we would to say thank you very much for keeping everyone thoroughly entertained at our wedding at Drumtochty Castle last month. People are still talking about the amazing tricks you performed and the way you mesmerized the children with your magic and super balloon models, keeping them smiling and laughing. You did a fantastic job.
Best regards, Angela Dinsmore-Wilson and Andrew Wilson Drumtochty Castle
} Hi Carl, We just wanted to say a very big 'Thank You' for doing a fantastic job entertaining all the guests at our wedding. You were simply amazing and people are still talking about you now. I am so glad we made the right decision to book you and we will highly recommend you to anyone considering you for their event. Deirdrea and Paul Chalmers Kildrummy Castle Hotel
} We want to thank you so very much for providing fantastic entertainment for both adults and the children at our wedding, everyone said how much they enjoyed your performance and all the mum's were raving about the show you put on for the kids and lovely balloon models you made them. We're also so glad you can come and do the twins birthday party, everyone is looking forward to this. My mum is still talking about the glass block in her hand! We will sing your praises whenever can. Kindest regards and thanks again. Rachel and Andy Larmour Thainstone House Hotel
} Good evening Carl….that's us coming back down to earth after our wedding celebrations and honeymoon to Vegas. We would just like to say thank you so much for a great job keeping everyone entertained on 26th & 28th July…..they absolutely loved you to bits and had so much fun……..the photographer's pics say it all it all! Will not hesitate to book you again should the need arise, and will highly recommend you to others. Muchos thank yous :))) Donna and Steve Roy The Marcliffe
}Hi Carl, Thought you might like to see these pics. You did an amazing job we've had so many compliments about how fantastic you were with the kids and adults alike. My nephew Riley thought you were totally hilarious. Thanks so much! Jen x Jen and Will Lobban Fasque House
}Hi Carl, Just a wee note to say a huge Thank You for making the magic happen! All our guests were saying how great you were, we are lucky to have had you at our wedding. Kind Regards Claire and Kevin Paton-Oakes Meldrum House Hotel
} Carl was amazing on our wedding day! he kept the children and adults thoroughly entertained and was a fantastic help keeping the kids happy whilst being photographed! Would highly recommend. My wee niece was upset to see him leave… x Karen and David Bowman Banchory Lodge Hotel
} We booked Carl for our wedding after he was recommended by a friend and he certainly added something special to the day. Not only was he very professional to deal with but he is a really nice guy and this comes over in his work. We didn't get to see all of his performance but he did do a special wedding trick for us. All the parents said he was great with the kids and kept them well entertained with his magic and balloon models, even some of the adults went home with aliens and various animals. I wouldn't hesitate in recommending Carl to anyone.
Lynne and Kevin Gibb Kings College Aberdeen